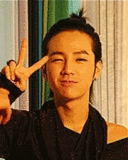 Comel x saya Jang Geun Suk? Hahaha.. Of coz lah awk lagi comel.. Menangis pulak kunk..
Ok lah.. Kali nie Nur nak post pasal Program Immertion (PS) between Mozac and SMASKM yg telah diadakan pada hari Sabtu , 20.8.20011 semalam... (today is Sunday dear)
Masa program nie.. kite kami belajar Sains for the first slot and History for the second slot...
Slot pertama .. group Nur.. Nur,Farhana and Naziha.. pihak MOZAC pulak.. Awatif,Syafiq and Wan..
Wan secara automatik jadi ketua memandangkan .. he looks like a leader with his leader look..
haha..
Orang pertama yg duduk depan Nur si Wan tulah.. then si Syafiq tu.. pastu.. Wan asked our name... our school.. class.. etc.
A few minutes later.. Awatif dtg.. sempat tnye nama sebab Awatif dtg lmbt sbab bas die org lambat..
Kite org kene bincang soalan percubaan sains negeri.. eerrmm i forgot..
Wan.. Nur salute arh.. You are the best ex-groupmate i ever had.. Nur rasa die pelajar target..
Mana tak yew.. Nak tau lebih lnjut .. click
here
...
SLOT KE DUA!!
Sungguh sedih.. groupmate sudah change.. Wan duduk kumpulan just behind me.. Awatif just beside me.. Syafiq sudah tidak aku nampak..
Ahli group baru .. Sumpah x tahu nama die orang.. Tahu sorang jek.. Tu pon nickname die.. Buyong.. haha
watever lah.. 2 lelaki 1 perempuan..
45 minit terakhir baru kite orang cakap-cakap.. tu pon sebab cikgu tegur group kite orang..
Pastu masa bincang soalan.. cikgu panggil Farah Haziqah.. budak kumpulan sebelah.. menakut-nakutkan aq.. ''cikgu Haziqah..cikgu Haziqah''
Nur senyum jekk.. x ambil hati pon.. die pon senyum jee.. gurau2!
Satu jew nak cakap.. Die orng belajar 4 jam selepas solat terawih.. Me? Gorjuss gorjuss!!
Okeylah.. Cukup sampai disini..