tell me.. sapew yg x blush klo org beritahu die ''saranghae'' ....
klo adw pm me ok.. x de nafsu tol!!!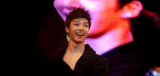 spew yg x jadi giler biler org show kt die ''sarang'' ...
klo adw pm me ok.. hati keras!!
spew x cair klo adw org ''wink'' kt die...
ooppss.. sorry mungkin die x reti wink..
______________________________________________
recently.. i miss him a lot... all things above... he always does that to me..
nanti die dh pergi... sedih sgt.. Ya Allah!! Astaghfirullahalazim..
next week die dh x de.. confirm seminggu.. aq akan rindu.. spew x rindu org yg kite syg weyh!
org kata cinta monyet itu best... tpi aq bukan cinta monyet.. aq cinta di awan..
ini frasa baru okey~
aaaaa... die kata jgn cari yg baru!!
aku pegang kata2 die!!!
x mau sedih2!!
Yang meluahkan : Saya sendiri
Untuk awk :
Predator
LOVE YOU!!