Hooray!!!
Selesai terawih tadi! Harap2 dpt buat terawih sepanjang bulan Ramadan nie.. Kata org bykkn ibadat bulan mulia mcm nie.
Tadi masa dh sampai surau.. fulamak! Penuh dah makmum wanita.. x masok lgi makmun cilik nie... Adik2~ Budak kecik duduk belakang.. Bagi kakak2 and mak cik2 dok depan..
Special tau!! Tpi x delah dok depan.. just tempat tu luas jew...
Lepas solat.. jumpe kwn mse sek ren.. so citer2 lah.. perempuan.. ada shj ceritanya~!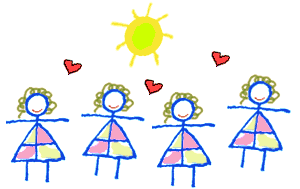 aq tnye lah pasal pelajaran.. ok ke x? just random questions..
Then paling sedih tu.. die kata next year .. die dh x skool kt cnie.. I guess.. maybe die x sek kat sek die jek.. upewnyew..
Die bljr kt Indon.. gontor sane!
I was like..


no! jgn pindah! aq baru jew nk feeling! mak die merangkap ustazah masa aq sek ren agama dtg.. apa lagi.. aq salam ustazah aq tu.. say goodbye to them and just go!
What a sad ending! Tomollow die nk kene blik asrama~
Hukhuk.. xpew lah~ klo adw jodoh x kemana kan~
That's for today!
S.A.L.A.M